EGGPLANT
by Linda Tilden, Oil Pastel
I love doing these 3" x 5" studies for several reasons. I love learning new things and exploring different techniques. I was learning so many new things I felt scattered, and wasn't doing anything well. I was never satisfied, always making changes, and ended up with tired, lifeless paintings. That's when I put away my paint for awhile and started these small pastel works.
I wanted to enjoy the process again, and it was important to finish something. My husband has been reading a wonderful little book called "I Dare You!" by William H. Danforth. It was originally self-published and now is in its 28th edition. I opened it up and read one paragraph:
I assume that you are above the average person. I am daring you to know at least one thing well. What is it? Make your decision and then determine to know that one thing well, better than anyone else...This is going to take time and hard work, but the joy you will discover in knowing one thing well will more than repay you.
Mr. Danforth was the founder and former Chairman of the Board for Ralston Purina Company. (
http://www.nestlepurina.com/Danforth.aspx
)
I am going to start at the beginning and read the book. Mark Mobley, a former teacher once said: "I love reading books by dead men...if the books are still being read after they're dead then they must be good."
So the one thing I want to do better than anyone else is paint like a
Colorist.
Until recently I didn't know there was such a term but many of the artists' works I enjoy use this principal of making color the key feature in their paintings. I love beautiful colors, and am drawn to artists like Matisse, van Gogh, Seurat, Cezanne and Hawthorne.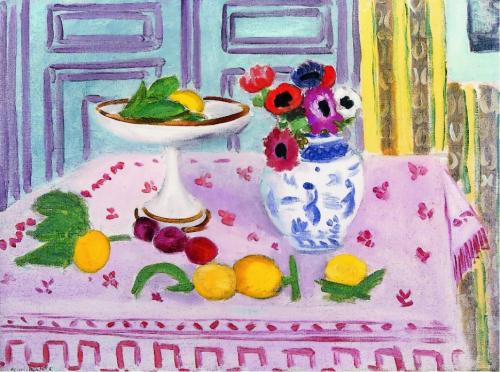 HENRY MATISSE PINK TABLECLOTH
"If the trees look yellow to the artist then painted a bright yellow they must be."